Well I was able to get out with my fishing partner Joey for a half-day trip on Sunday. We fished a small pond on the east end of Long Island. We arrived at the ramp around 1:30pm.
Date: 2/19/12
Air temp: 44 degrees
Water Temp: 41 degrees
Water Clarity: Clear
Winds: West at 10 MPH
We set out to target largemouth bass. First area we approached produced two largemouth bass on back to back cast with a hair jig.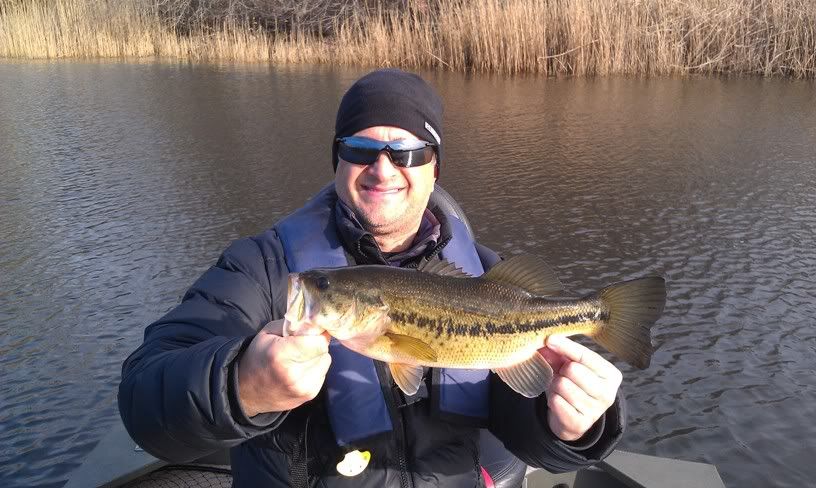 Both bass were located at the base of the drop-off into deeper water. We fished the break for about an hour and landed a total of 5 bass ranging from 2.5 lbs to 3 lbs. No giants, but some nice post frontal action for February. We also connected with a bonus fish, a really chunky perch.
We left that area to check another wintering spot and were rewarded with a 2 lb bass and this nice largemouth that was about 3.75 lbs (photo below). That was our biggest bass landed for the day. We connected with couple more 2-2.5lb bass in another wintering hole, but nothing big.
All in all we had a great day on the water. All of our fish were caught on1/8 oz. hair jigs. We managed to catch 9 Largemouth Bass, 4 pickerel and that fat perch, which got me itching to go target perch, so that became to focus for the following morning:
On the trip back, I put a call into my friends Dave and Nunzio to find out if they wanted to join me for a Perch trip. Both agreed and we planned to be on the water by 8:30AM. Our destination was another Long Island pond that holds a very healthy population of nice sized Perch.
DAY 2
Date: 2/20/12
Air temp: 37 degrees
Water Temp: 40 degrees
Water Clarity: Clear
Winds: North 25 MPH (with Gust up to 35 MPH)
You know it's cold when you are thinking of getting back into the truck while you are taking the tie down straps off the boat! The wind was howling and the pond we were fishing has no place to get out of the wind, so we knew it was going to be a long day. We started searching for Perch in a hole where they are often found schooled up this time of year. It is a large area with weeds and stumps, but with the wind at 25mph sustained, it made finding the perch a little difficult. In addition, the weed was gone. We worked around the area for a while and then decided that we needed to set out to find some good weed that might still be around. Once we found a good patch of weed near the creek channel, it was on! We connected with our first perch around 9:30am, kicked a buoy marker over the side and caught them almost on every cast until about 12:00pm.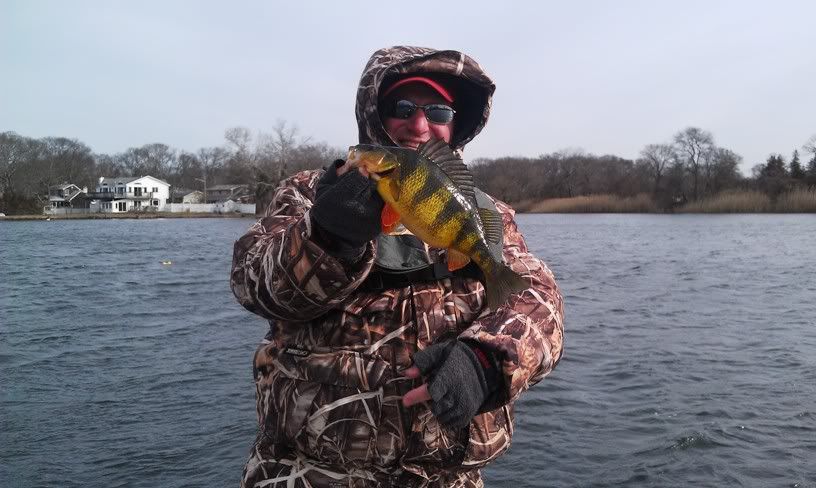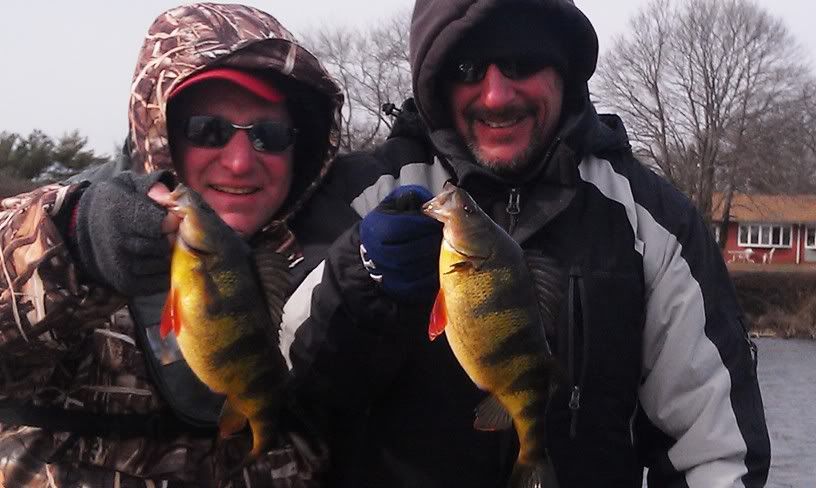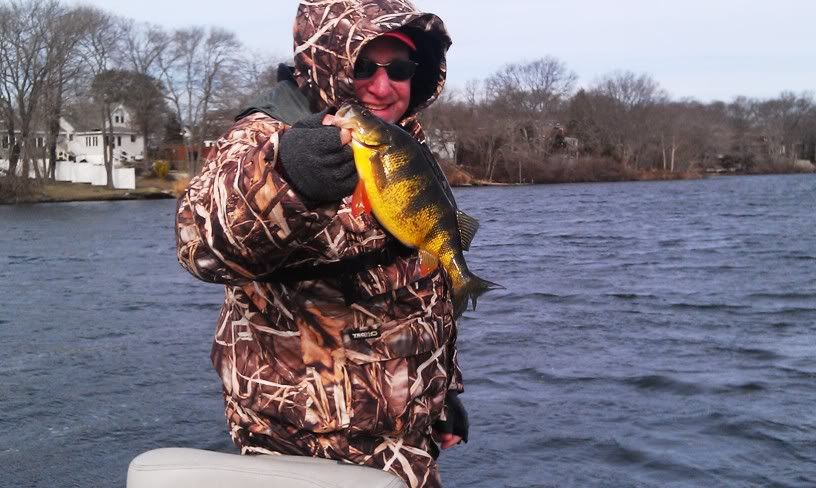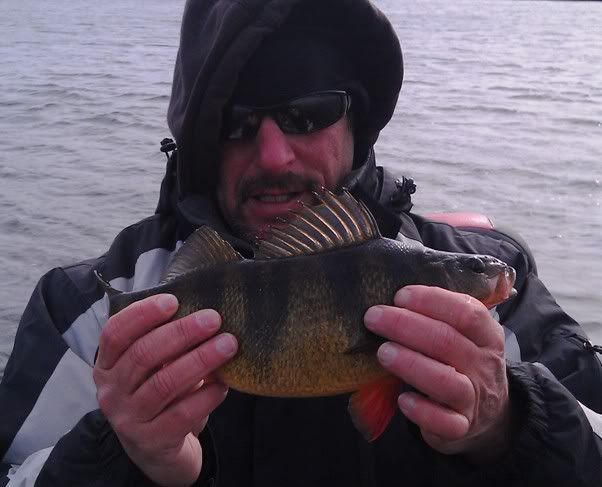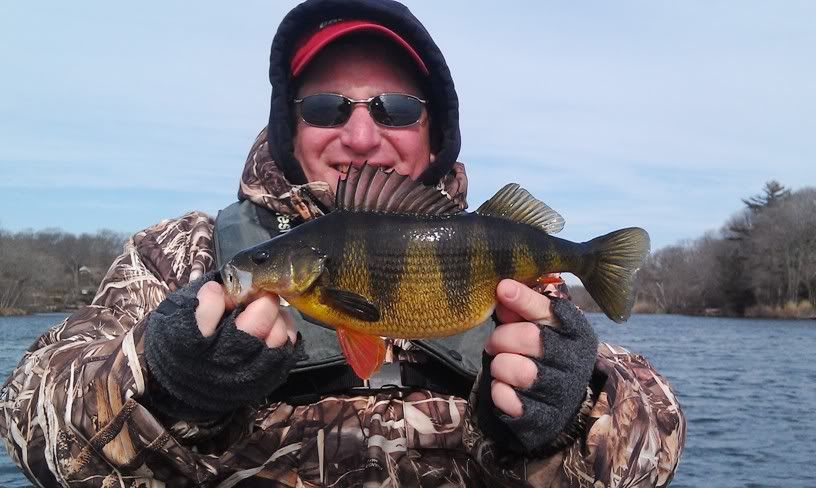 Every now and then they would move around a bit, but for the most part they stayed within about a 100' radius. We had tons of doubles and a few triples. We only had on one giant, but she came off before we could land her. The rest were all really healthy, fat and feisty perch. With the average perch weighing about 1.5 lbs. They're a lot of fun on light tackle with 4lb test line.
More Bass Fishing Reports