On the
Bassinusa.com message boards
there's a discussion about limiting the amount of lures that they carry on their boats. There's such a vast amount of lures out there that we use for different techniques. We try to consolidate in the beginning of the season, but as one of our members posted "by mid-season there will be a small tackle shop in the boat!"
What do you do to limit the amount of clutter in the boat?
Here's what I've done to help keep the clutter to a minimum.
I've started creating smaller boxes that contain everything I need for a specific technique. Plano makes a great
waterproof tray model 3640-10
that allows you to separate the interior layout in some very usable configurations: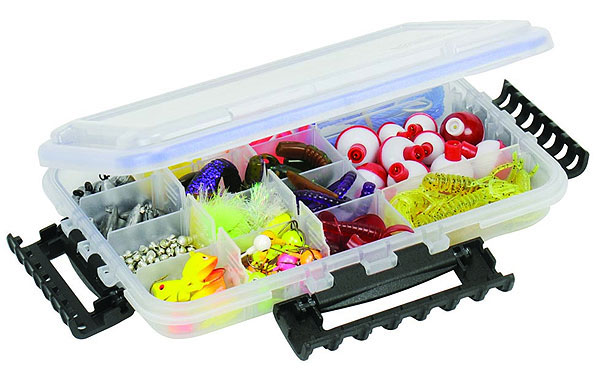 For example, drop shotting. I have a small dropshot box that contains my three top producing colors which mimic the forage in the areas that I am fishing. (When traveling to other areas, I can swap out colors as needed), Weights I keep loose in the compartment on the right along with hooks which I leave inside their plastic jacket. I mostly use Gamskatsu hooks, so the package fits nicely inside this size box.
I have another one setup for jigs, swimbaits, grubs, tubes, etc.
For jig heads, I keep a separate box (same size) with a variety of the jig heads that I commonly use.
I one larger box that I use for bulk hooks, weights and other terminal tackle (swivels, split rings, etc.)
Like you suggested, I also have combined my crankbaits into one box, with a variety of colors and sizes sorted by Depth. I like a double sided box for this. I'll put 0' -12' on top and the Over 12' on the bottom (or other side).
Top water lures I keep in a medium size box that can hold about 15-20 lures (depending on size).
I have a spinnerbait/buzzbait box:
I keep a Plano box that holds all my fishing line and another stand-up bin that holds pliers, glue, scissors, flashlight, and other tools, etc.
I have a small mesh bag that holds my culling scale and rings (up to 10)
Everything fights into one bag that fits in the back compartment of my Ranger. That's the test, if I can keep everything down to that size, if I ever need to jump in someone else's boat, I'm good to go...
From there, I keep bulk plastics in big zip lock freezer bags that can be left in a bin which can be left at a hotel, or the truck and if I'm really paranoid, I can always through a couple in the boat compartments because there' usually plenty of room left over.